This is no longer in Washington
The Carriage Museum - 23 Carriages
Here are some of the high quality, hand crafted, horse drawn carriages, buggies and other vehicles on display in The Carriage Museum, is located on Old Main Street behind the Carousel Shop. This museum was opened in 2000 and is privately owned by Tom and Elaine Haughaboo. All proceeds go to the Alzheimer's Fund.
1. Spindle-Back Runabout - The spindles in the seat make this a little fancier than most. This is a very light and practical carriage. Used primarily as name states - This is a very informal and utilitarian vehicle, made expressly for "running about: and getting things done. It is a road wagon with no top, sometimes called a "driving wagon." Being light it could be easily hitched by one person and easily pulled by a single horse for long distances and long periods of time. Runabouts could be either fancy or plain, what they could not be was encumbered with fenders, heavy tops or unnecessary accessories that added weight. Mr. & Mrs. Andy Duke
2. Smaller version of the Runabout - Made by Luth Carriage Company of Cincinnati, Ohio - Duke
3. Racer - Used to race slantardbred horses - Duke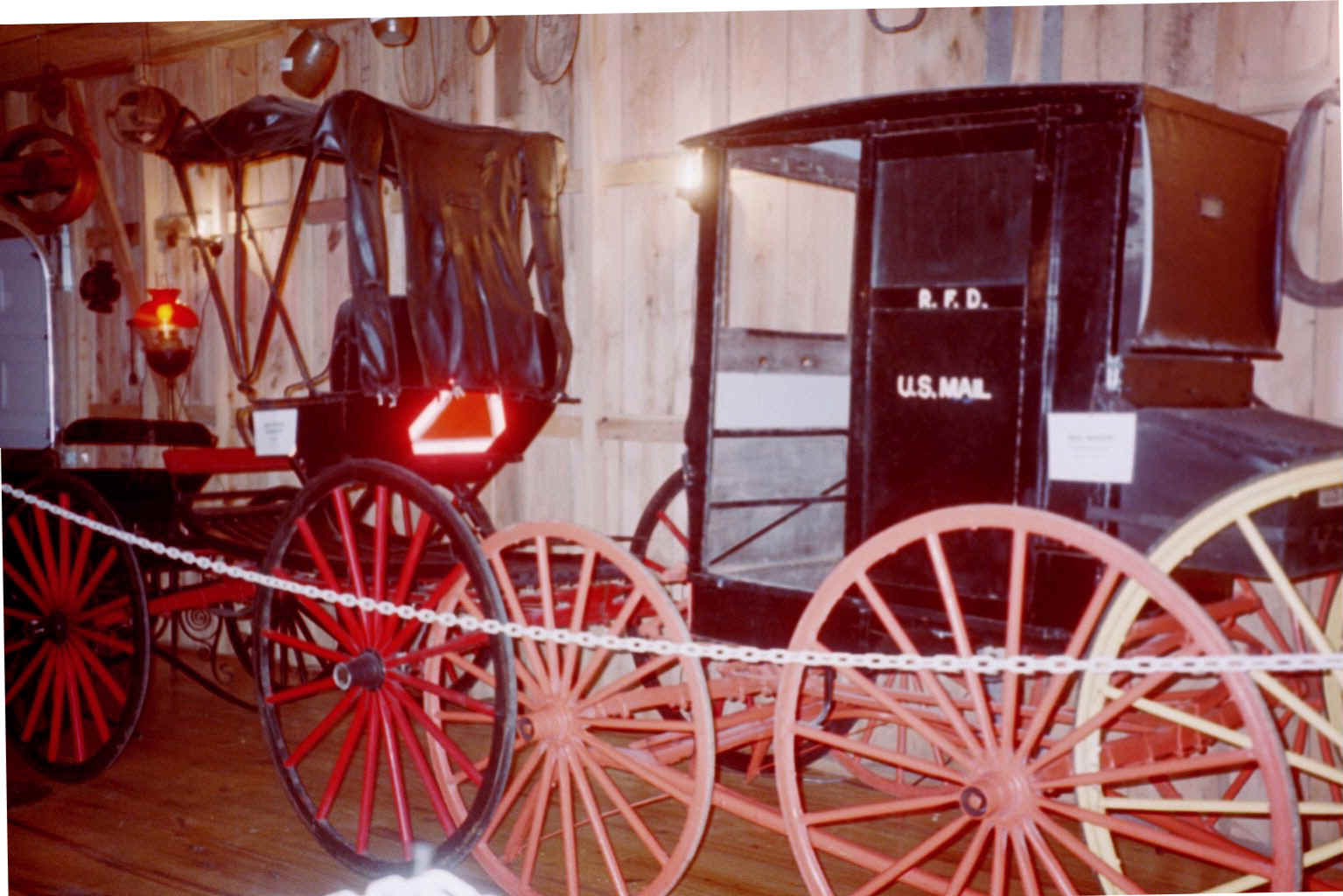 4. Mail Wagon - R. F. D. painted on side - mail trunk in back - has steel wheels - Duke
5. Side Spring Runabout - Has folding top - Original condition. C. 1900 - Duke
6. 2-Seater Runabout - Original condition made by Bauer & Klipp in Maysville, Kentucky. Carriage used by Jane Wise. - Duke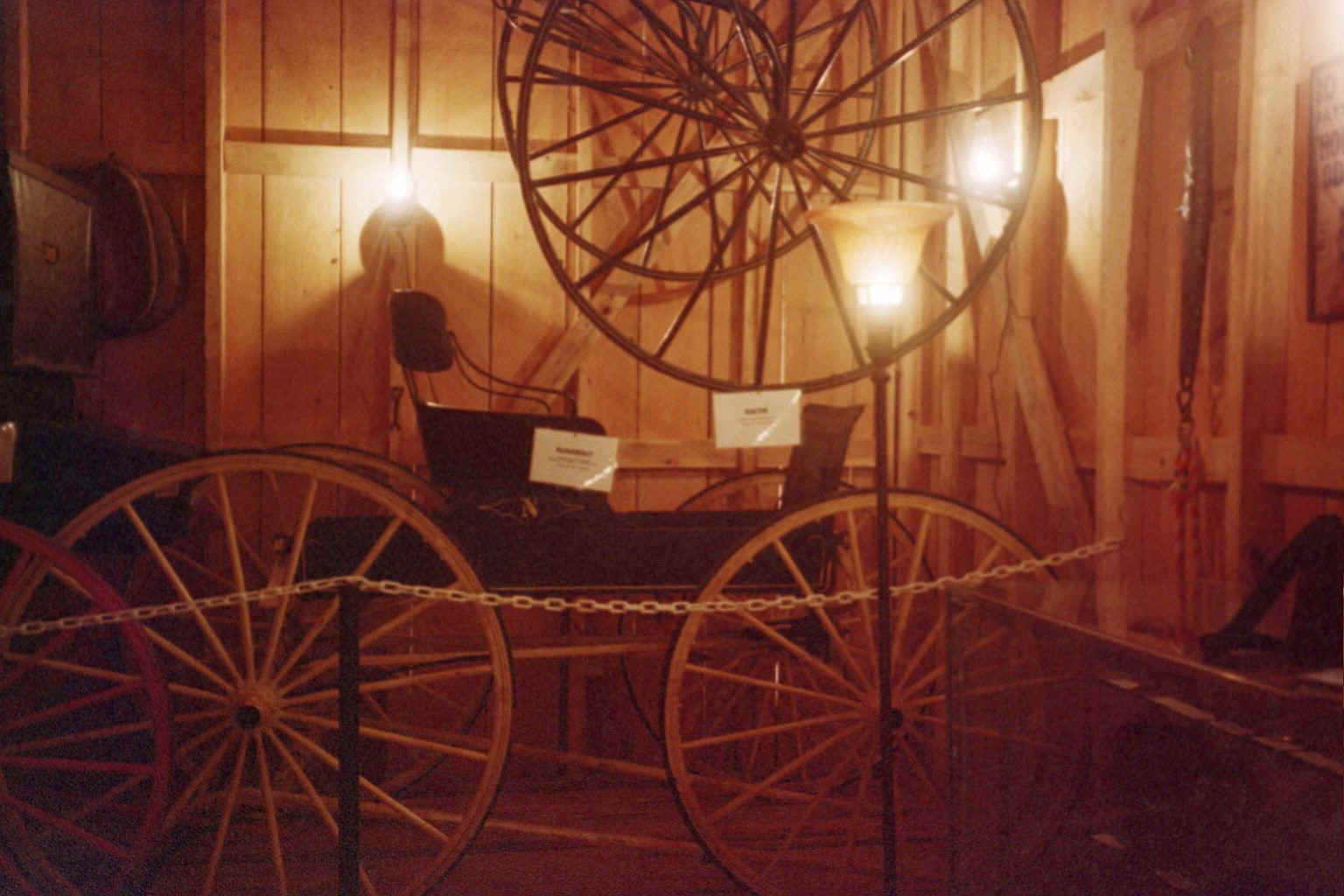 7. Doctors Buggy -Original condition - Tom Haughaboo still used this buggy to show in at various State Fairs
8. Drop Front Phaeton - A covered Buggy - Gorgeous, this vehicle is done in dark blue with same color velvet upholstery, with striping in ___________. Note the magnificent graceful lines. The word Phaeton comes from Greek mythology. Phaeton was the son of Helios, who drove the Chariot of the Sun so recklessly that Zeus, fearing he would set the earth on fire struck him down with a lightning bolt to prevent him from destroying the Earth with fire. The term was first used to identify a carriage in 1735 when the French applied it during a period when it was fashionable to use classical pseudonyms. The term spread rapidly to England and from there to America. The name applied to both large and small owner driven carriages, which nearly always include some sort of top that would shelter the driver at least and could be drawn by either one or more horses. Generally they are four-wheel vehicles, lighter than standard carriages, with the body being a single piece and can be for either two or four passengers. The term was used extremely loosely and it is hard to determine why a particular vehicle might have been called a Phaeton.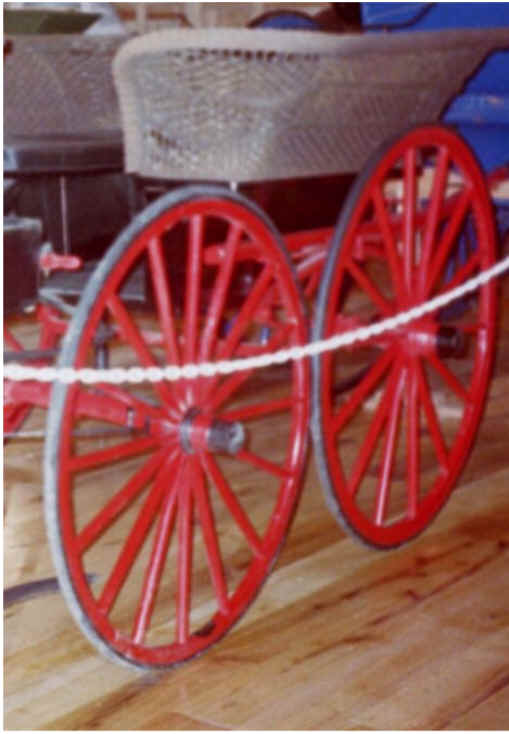 9. Governess Cart - Wicker has around seats with back door. A safe vehicle for children because they enter and exit at the rear, far away from the pony and the wheels. So the children could be watched, everyone, including the governess (driver), sat sideways on two facing benches. - Made by A & D Buggy Shop in Millersburg, Ohio. This is one of our absolute favorites and unquestionably one of the most unusual in our collection.
10. Runabout in Original condition - ca. 1880 - It has a boot on back - Duke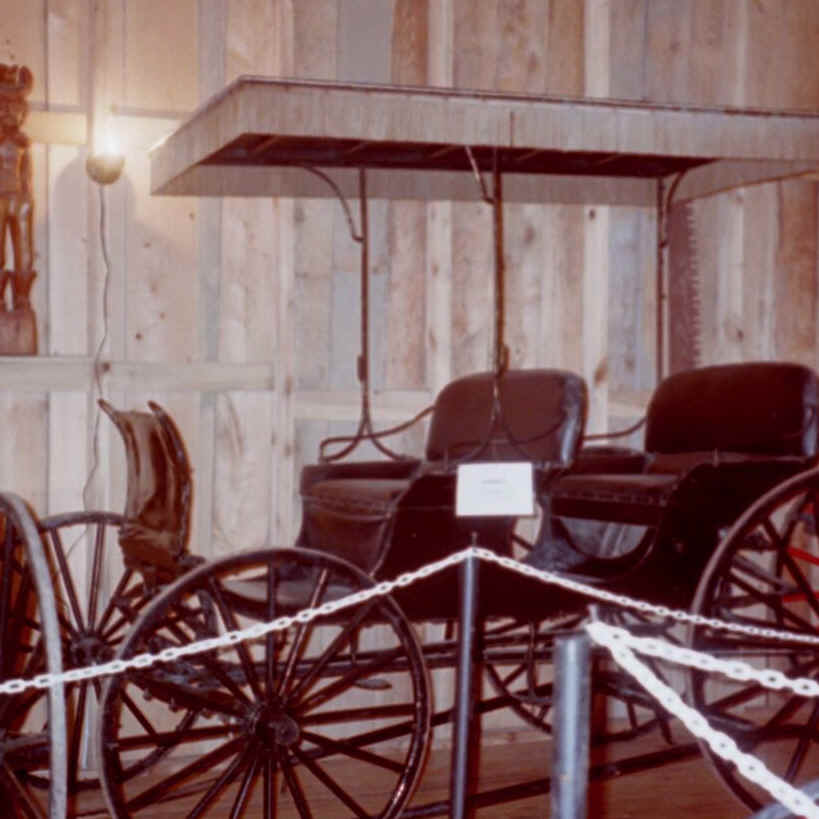 11. Surry with original fringe-on-top - 4 passenger with top. Original condition. Made by John H. Michael of Cincinnati, Ohio. This is one of our prize carriages.
12. 4- Passenger open top carriage with steel wheels - has been partially restored.
13. Farm Wagon - Used on farm to haul supplies. Original condition with steel wheels - Duke
14. Sleigh - 2-Passenger sleigh, also known as cutters. Original Condition, (note painting at top). Ca 1800's. Mr. & Mrs. Duke upset in this in late 1930's. Cutters, to differentiate them from sleighs, are considered light sleighs, with only one seat, and usually pulled by one horse. It is a distinctly American term that does not appear to have been used prior to 1800. Cutters are usually broken down into two additional categories - Albanys and Portlands. This is a Portland Cutter. The Portland cutters have rather straight angular lines. They were extremely popular in American with many companies manufacturing them. Sears & Roebuck for example, advertised a similar model for $16.75 in 1908. Many of the companies who turned out as many as 16,000 carriages in 1904 were out of business by the early 1900s. Ours was built around the turn of the century.
15. Breaking Cart - Break (or brake) is an English word that derives its origin from the "breaking" in of colts or untamed horses. They were often also used for exercising teams of horses. Thus, the carriages being used for such purposes became known as Breaks. Later the term would classify a wider variety of vehicles that were intended to carry a large number of passengers. When they put a body on the vehicle they used the term Body Break, or Wagonette Break. Many were made in the 1800s, ours is ca. 1890. The seat behind the driver's position is removable. There is a boot beneath the front seat. Made by Jos. H. Lawrence in Maysville, Kentucky. It has steel wheels.
16. 4-Passenger open top wagon - partially restored with red velvet seats. Made of split hickory by the Ohio Carriage Co. in Columbus, Ohio.
Also has Browning Mfg. wood pulleys, Buggy Lap Robe, old Children's Horse-Drawn Cart and Cars displayed from ceiling.