COVERED BRIDGE TOUR
With only 13 bridges left in the state, our five-county area lays claim to eight of them.

1. Located in Mason County, Close to Washington, is the Dover Covered Bridge. This bridge was built in 1874 over Lee's Creek and renovated by the Bower Bridge Company in 1912, and raised to its current height by 15-year-old Stock Bower in 1920, a Smith truss construction. It is 131 feet long. Crossing the bridge is a 1911 Packard Model 18 Touring Car. Bypassed in 2005, it still carries traffic on Tuckahoe Road just off KY 8.

2. The Valley Pike Covered Bridge, near Washington, is the only privately owned covered bridge in Kentucky. The shortest known covered bridge to have existed in Kentucky has carried the Bouldin driveway over Lee's Creek since 1864. This 24-foot kingpost truss structure off Valley Pike in Mason County is 15 feet wide and 14 feet high. Even though the bridge had been in use as a bridge for over 100 years, it was not discovered by the Kentucky Department of Transportation until 1975. As it was never listed before that time, its discovery increased the number of covered bridges in Kentucky even though no new bridge had been built. It can be viewed from the road.

Other covered bridges on the tour are:

3. Walcott Covered Bridge - Spans Locust Creek and is thought to have replaced a similar covered bridge built on the same site in 1835. This unusual combination of the King & Queenpost style truss consists of one 74-foot span.
4. The Cabin Creek Covered Bridge - built in 1873 or 74 to span Cabin Creek. The creek and the bridge were named for a log cabin about forty yards from the bridge. The single-span Burr truss bridge was originally built without arches. It was designed, and probably built by Theodore Burr. It is 114 feet long. The Cabin Creek Bridge, closed to traffic in 1983, crosses the creek on an abandoned alignment of KY 984 within sight of the Mason County line. Repaired by the Bower Bridge Company, the arches and iron tension rods were added during this repair in 1912. The placement of these tension rods have led to the recent misclassification of this bridge as a Childs truss. Today the bridge is in a state of technical collapse, supported only by the steel buttress added c. 1978. Restoration funding is pending.

5. The Blue Licks Covered Bridge - built in 1874. This is a Smith truss construction. It is 131 feet long.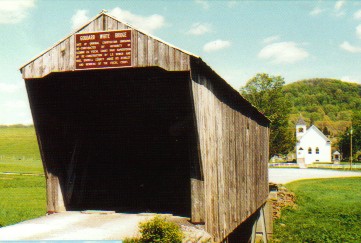 6. Goddard Covered Bridge - built in 1820. It was built using Ithiel Town's design, and is the only Town-Lattice type bridge left in the state. The timbers are joined with wooden pegs. It consists of a 63-foot span and four 7-foot, 6-inch timber beam spans, and may be the oldest remaining covered bridge in Kentucky and is still open to traffic. The Town lattice truss is covered with initials that have been carved over many generations. In 1932, the Town lattice span was moved by the WPA two miles north to its present location over Sand Lock Creek on Goddard-Muses Mill Road in Fleming County. There are no known photographs of the bridge at its original location on KY 32. It is the most photographed covered bridge in Kentucky with the Goddard Methodist white church showing through the bridge in most pictures. This picturesque scene has appeared in numerous publications from travel brochures to car magazines.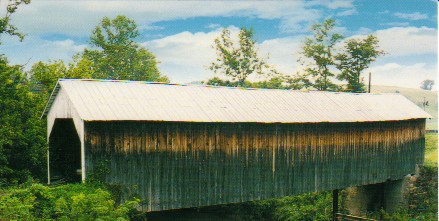 7. The Grange City Covered Bridge - built between 1865 and 1870 and double post and brace design with the Burr truss carried traffic on Ky 111 over Fox Creek in Fleming County until it was bypassed in 1968. Built as a twin to the nearby Ringo's Mill Bridge, over time, its appearance has been changed. In 1926, the horizontal wood siding was replaced with corrugated sheet metal and the portals were altered. Minor restoration work was undertaken in 1983 when the metal siding was replaced with wood. There are four flood marks cut into the bridge timbers, with the highest being 5 feet and 9 inches above the floor of the bridge in January 25, 1937. It consists of one 86-foot single span and is 14 feet wide.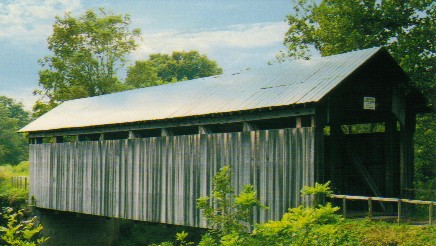 8. Ringo Mill's Covered Bridge was erected in 1869-70. This bridge was built for the use of employees and customers of the old gristmill. Before the bridge was built, a man by the name of Arthur Fox of Washington, Kentucky fell into the creek. To memorialize this man's demise, Simon Kenton named the creek Fox's Creek. Consisting of one 81 foot span of double post and brace design. The design is a multiple King Post truss was renovated in 1983, and its original horizontal siding was replaced by vertical weatherboarding. Stock Bower began this renovation, but was unable to complete the project after being stricken suddenly with macular degeneration. Stock remained as consultant and LeRoy and Gary Wood of Brooksville, Kentucky, completed the project.. Closed to traffic in 1970, it crosses Fox Creek on KY 158 in Fleming County.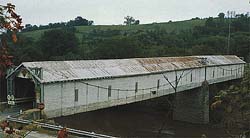 The Sherburne Bridge over the Licking River, between Bath County and Fleming County was the only suspended covered bridge in the world. After 100 years of service, it fell victim to arsonists and was destroyed by fire on April 16, 1981.Erected 1867-1868. It was built by Issac Kisker, who owned a sawmill and a man named Pearce, who did the stone work. For many years the Maysville-Mt. Sterling stagecoach crossed the privately owned bridge. The bridge consisted of one 100 foot through truss and one 153 foot span suspended on cables. It contained a single roadway only 15 feet wide. The 253 foot bridge in two unequal spans was founded on massive, well laid stone abutments and center pier. From steel framework posts outside the bridge, they hung a two span suspension bridge.
Covered Bridge Trivia
When did Kentuckians begin to build bridges and why?
In the late 1700s because of the rough terrains and numerous streams.
Why did they build covered bridges?
To protect their complex system of rigid trusses. (Not to protect the floor which was easily replaced, nor to keep travelers dry either).
What was the largest count of covered bridges ever in Kentucky?
More than 700.
What was the earliest formal bridge design?
The Kingpost.
What happened to many of the old covered bridges?
In 1928 Gov. Flem D. Sampson signed the Murphy Toll Bridge Act so the state could condemn or purchase privately owned bridges. Until then there were numerous privately owned toll bridges.
The Simon Kenton Bridge in Maysville was built in 1930 and was a toll bridge.