Historic Washington, Kentucky
Washington, now part of Maysville, is located on old US 68. The 1780's village is nestled 4 miles south of the banks of the Ohio River and downtown Maysville. it is 55 miles northeast of Lexington, KY, 50 miles west of Portsmouth, Ohio, and 51 miles east of Cincinnati, OH, (take the Wilder Exit #77 of I-275 onto Route #9 - also known as the AA Highway). Then turn right at the light by Wendy's onto US 68. Turn left at the second light up into Washington, which is 1 miles south of the AA Highway.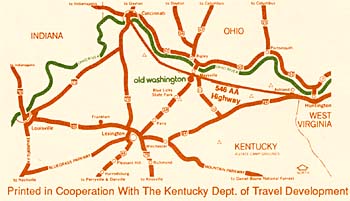 Click to get Kentucky Atlas & Gazetteer map showing location of Washington, Kentucky
Click to get Yahoo! map showing location of Washington, Kentucky
You can go to www.mapquest.com then click on Get Directions - fill in your address as the starting point then type in 2112 Old Main Street, Maysville, KY 41056 as the ending point, click on Get Directions again and it will give you turn by turn directions to Washington (which is listed on the map under Maysville as the two merged years ago). Maysville is 4 miles away on the bank of the Ohio River.
Places to Stay: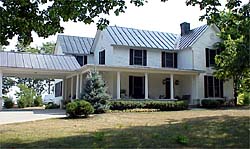 Kleier Haus Bed & Breakfast
912 U.S. 62

Maysville, Ky. 41056

(Washington)

606-759-7663
Hampton Inn - 503 Market Place Drive (behind Tumbleweed - just off Hwy.#9, the AA Highway) 606-759-0600
Nationwide 1-800-Hampton (1-800-426-7866) 3/4 mile from Washington.
62 Rooms, King & Jacuzzi Suites, Indoor Pool, Business Center, Exercise Room, handicap Accessible, Complimentary hot Breakfast.
Hampton Inns are noted for their feather pillows, but they also have regular firm pillows, Serta mattresses.
Rooms have a single king size bed, or double queen-size beds and a Jacuzzi. All rooms have a bathroom
with blue pearl granite vanities from China. With technology of LodgeNet, when guests switch TV on in
it goes to screen with morning's breakfast menu which is served downstairs. Famous for their breakfast
of French toast, fresh fruit, cereals, ham and eggs, coffee and juices - fresh coffee available any time during
the day.
Main floor has a business room with computers and other items needed for the business traveler. The entire
hotel has wireless Internet and as Federal government employees can't use wireless, all rooms are hard wired.
Super 8 Motel - 606-759-8888 - 1-800-800-8000 - 550 Tucker Drive - Maysville, KY 41056 -
One-half mile from Washington.
Blue Moon B & B - Marti Insko - 606-563-8812 or 866-823-1946 - 320 Market St., Maysville, KY 41056
5 miles from Washington. Continental breakfast provided on weekdays, full breakfast served on weekends. Private
with private attached bath, TV/VCR in rooms, secure code access to the home and your home, fax and internet,
laundry facilities. Situated in the heart of downtown Maysville.
Best Western Maysville Inn - 606-759-5696 or 800-528-1234 - 1428 A - 1 mile from Washington on US 68
Indoor Pool and spa, complimentary deluxe continental Breakfast, handicap facilities, free local calls, cable TV with HBO,
free weekday copy of USA Today, free parking, bus parking. 54 rooms.
Days Inn - 606-564-6793 - 484 Moody Drive - 2 miles from Washington on US 68. Turn at light by McDonalds
120 rooms and suites with plenty of working space, direct dial phones, meeting rooms, cable TV, outdoor pool and tennis court, and large banquet rooms.
French Quarter Inn - 606-564-8000 - 5 miles from Washington in downtown Maysville. 63 rooms.
Motor Home: Maysville River Park - 43 Improved Campsites with Electricity and Water.
Amenities: dump station, showers, restrooms, gasoline, picnic shelter, grills and snack shop